Welcome to the Rienstra Clinic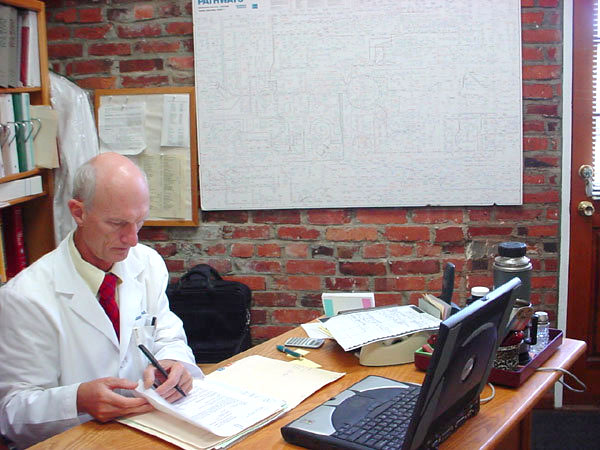 This Clinic is Closing May 18, 2023
About twenty years ago people started asking when I was going to retire—maybe it was the bags appearing under my eyes.  Thinking that my health would be the deciding factor, it was always easy to answer, "As long as God lets me."
As it turned out, though, the deciding factor has turned out to be my inability to hack the economics.  Despite an ambitious search and a few rays of hope, I have been unable to attract another provider to help offset rising overhead.
When my lease expires in May, we are dropping the curtain on the Kearney Street office and removing the set.
Our last day of service in this clinic will be May 18.
What You Need to Do
If we have been working a care plan with you, please come in so we can outline what needs to be done going forward.  I'll give you a summary of what your new doc needs to know and how we can expedite that. Please come in soon so we have time to get your transition arranged to a new care team.
If you are scheduled for care in the next few months, let's take care of your needs and set you up for another year.
Please come in at your convenience so I-Kwoan can give you your medical records.  These you can keep for future reference when needed.  Or, if you prefer, call and we can send your records via secure e-mail.
Once the clinic closes, we will shred all medical records.  From then on, there will be a fee for us to send our scanned copies.
Douwe Rienstra, M.D.
General Medical Practice
Concierge quality service without an annual fee.
Lab tests direct to you, no physician visit required.
Commercial Drivers License Examination.
United States Coast Guard Examination.
Full physical exams for Medicare patients.
House calls.
Visitors to Port Townsend welcome.
Shorter wait for appointments.
Suboxone treatment.
Palliative care.
Reasonable fees are due at the time of service.
Office Protocol During COVID-19
All office staff fully vaccinated.
If you have fever or cough, please let us know before coming to the office.
If you have fever, cough, and loss of taste and smell, or have been exposed to someone with active COVID-19 in the past week, please call the Jefferson Healthcare COVID hotline at 360-344-3094.
We will give you a KN-95 mask to wear during your visit to our clinic.

We encourage you to follow current prevention guidelines including vaccination and, when helpful to yourself and others, masking.
Not Your Typical
Doctor's Office
 We take the time to understand your health problem, large or small.  We will give you a thorough physical examination appropriate to your needs.  We will offer the treatments best suited to help you, cherry picking the best of natural and pharmaceutical medicine.
Whether you come for a minor urgent matter, a second opinion, home care dilemmas or elderly care, we see you as an individual.  We work to help you meet your health needs in a way that fits with your own convictions and daily habits.
New Patients
Thank you for choosing us for your medical care. Your trust means a lot to us.
You may download clinic registration forms and complete them before your visit. Or you may complete them at our clinic. (These forms are in PDF format and can be viewed using Adobe Acrobat Reader.)
Forms required of all new adult patients.
Hours and Availability
Hours
Except for physician or staff vacation, we are open from 9 to noon Monday through Thursday. Click here for online office calendar.
Availability
We can not guarantee 24/7 availability.  After hours you may
Leave a message at our office at 360-385-5658, which message is usually answered by the next business day.
Call Dr Rienstra's cell at 360-712-7149.  Please leave a message if he doesn't answer.  If he does not return your call promptly, he is not available, and you need to take other action as appropriate.  Call 911 for emergencies.
Physician Ordered
Just bring your physician's lab order and let us obtain the specimen.  We'll send it to a major reference lab in Seattle. Labcorp provides accurate results, often within a day or two, that will go directly to your physician.
With high deductible insurance or no insurance, you will usually find a major savings with our service.
You pay us when we draw your blood.
Sorry, but we can't bill to Medicare or Applecare.
Important Insurance Issues
Health insurance only covers tests ordered by a provider for "medically necessary and reasonable" purposes.  Your physician has evaluated you and coded your requisition to satisfy that requirement.
Self-Ordered
We offer laboratory testing without a physician order.
This includes:
Cholesterol panel
Comprehensive Metabolic panel for electrolytes, blood sugar, liver and kidney function, etc
Thyroid tests
Vitamin B12, iron, inflammatory markers, gout, anemia, HIV, COVID-19, blood type, urine drug tests
Functional tests and many more
When you know what tests you wish, call us.
Your insurance will not pay for tests you have requested on your own.
Complete Physical Examination for Medicare Patients
Medicare's annual check-up includes many important health concerns, but does not usually include a comprehensive physical examination.
We can supplement your annual Medicare check-up with a comprehensive preventive examination including a
complete head-to-toe skin examination
top to bottom physical evaluation
prostate check for men
gyn exam for women, if desired
any other disease oriented physical examination you request
Medicare does not pay for this detailed preventive examination.
Commercial Driver's License Examinations
Your license to operate a commercial motor vehicle requires periodic physical examinations from a physician who meets the standards of the National Registry of Certified Medical Examiners.
Most of the time, we can generally perform your examination within a couple of days of your call. Assuming you meet the Federal guidelines, you will receive a written certificate on the day of the examination, in most cases valid for two years.
Please come for your examination several weeks before your license expires so you have time to correct high blood pressure or any health issues that may delay renewal.
Please Bring to Your Examination
Your current commercial driver's license or picture ID.
Appropriate medical records if you have sleep apnea, cardiac disease, a recent back injury, any work-related injury, high blood pressure, recent major surgery or a serious medical condition.
Laboratory forms if your company requires a urine drug test.
Credit/debit card, check, or other means of payment. If your insurance company reimburses you for preventive examinations, we will give you a billing form so you can submit a claim for reimbursement.
Federal Requirements
Vision correctable to 20/40 in each eye. Glasses or contact lenses are permitted.
Adequate hearing.  Hearing aids are permitted.
If you have high blood pressure, you are required to be conscientious about treatment.  In the case of new onset high blood pressure, you will usually be allowed to drive while medication is begun and adjusted.
Not using drugs that impair alertness or performance, such as alcohol, amphetamines, narcotics, or tranquilizers.
Not subject to seizures.
Be fit enough to install and remove tire chains, couple and uncouple the trailer, safely secure a load, etc.
Space allows only this brief survey of the requirements.  The guidelines are lengthy. As a driver gets older, the medical examiner must evaluate all aspects of the driver's health to ensure safe operation of a commercial motor vehicle.
Waivers
Certain drivers who require insulin for treatment of diabetes may qualify to operate a commercial motor vehicle under special monitoring programs.
Drivers with missing limbs may qualify in certain circumstances to operate a commercial motor vehicle. Special evaluation is required.
Hazards Associated with Commercial Motor Vehicle Operation
Dr. Rienstra (and the Federal Motor Carrier Safety Administration) understands that there are many stresses unique to commercial motor vehicle drivers. These can include
Long and irregular work hours
Rotating work schedules
Irregular sleep patterns
Fatigue associated with extended work hours without breaks
Nutritional challenges that go with restaurant food
Emotional stress due to extended time away from a driver's social support system
Physical and psychological stress from tight pickup and delivery schedules
Adverse road, weather, and traffic conditions
Exposure to temperature extremes, vibration, and noise
In the case of passenger carriers, stress from passenger interactions
This is why we recommend our drivers maintain positive health habits even while away from home to prevent weight gain, de-conditioning, and all the health problems that come with it. Your career as a commercial motor vehicle driver depends upon maintenance of your health.
We want you to be able to continue driving and do so safely!
United States Coast Guard Examinations
We perform new and renewal examinations for your US Coast Guard license.  If your employer requires a urine drug test, please come ready to give us a sample.
Please Bring to Your Examination
Your picture ID.
Appropriate medical records if you have sleep apnea, cardiac disease, a recent back injury, any work-related injury, high blood pressure, recent major surgery or a serious medical condition.
Laboratory forms if your company requires a urine drug test.
Credit/debit card, check, or other means of payment. If your insurance company reimburses you for preventive examinations, we will give you a billing form so you can submit a claim for reimbursement.
Federal Requirements
Vision correctable to 20/50 in each eye. Glasses or contact lenses are permitted.
Adequate hearing.  Hearing aids are permitted.
For a renewal, your blood pressure must be 150/90 or less.
Not using drugs that impair alertness or performance, such as alcohol, amphetamines, narcotics, or tranquilizers.
Suboxone Treatment for Substance Abuse
Suboxone® is a medication used by people with opiate addiction to help maintain sobriety.  It does not cause the mental clouding of methadone.  Suboxone also blocks the rush produced by heroine, oxycodone, and similar opiate drugs.   So in two ways, by blocking the craving and by preventing the high, Suboxone in conjunction with outpatient treatment helps people get clean and stay clean.
Dr. Rienstra is certified per the Drug Addiction Treatment Act of 2000 (DATA 2000) to prescribe and monitor treatment with Suboxone.
What You Need to Know
Sixty miles
Successful addiction treatment requires an on-going relationship between you and Dr Rienstra, so you must live within 60 miles of our Port Townsend clinic or within Jefferson or Clallam County. 
Medical Records
We must have records from previous clinics and doctors prior to your first visit. 
You must bring your photo identification.
You must be prepared to release copies of all previous medical records to the clinic.
You cannot be in withdrawal at the first visit.
You must agree to urine drug testing during your treatment. 
You must provide proof of continued active participation in a recovery program.
You must agree to lifestyle homework as worked out by you and Dr Rienstra.
Requirements for Treatment
Detoxification
Switching to Suboxone requires that you go through a few hours of withdrawal from heroin, methadone, oxycodone, or your other drug of choice. We usually do this on your second visit to the clinic, and only if you are taking no more than 60 milligrams of methadone or its equivalent.  If you are already taking Suboxone and we have reviewed your records before the visit, detoxification is not necessary.
No Drugs in Clinic
We do not store in the clinic, nor do we dispense, Suboxone or any other scheduled drugs.
We do not prescribe methadone.
Individual Care 
We tailor treatment to each individual. To reduce your costs here at the clinic, you may wish to give Dr Rienstra a written summary of your health, your past and current drug abuse history, your current social situation, and other aspects of your life which seem important to your care here.   If you send this before your first visit, we can be sure that we will be a good match for your needs.
Payment Policies
 We require payment at the time of each visit.
Medication Assisted Treatment for Substance Abuse
Second Opinions
 Are you having difficulty finding relief from your symptoms? 
Do you wonder if there might be better treatment options?
When you're not getting the help you need, or if you are experiencing unusual or complex medical symptoms that seem to escape solution, come to us for an in-depth evaluation. Dr Rienstra can be your medical detective.  He takes the time necessary to listen, to question, to examine, to explain his findings thoroughly, and to formulate solutions.
When you and Dr Rienstra collaborate on your treatment plan, he'll offer you choices from the best of pharmaceutical and alternative treatments.
Whether you need a 2nd opinion or are starting with a clean slate, the Rienstra Clinic can provide the time, effort, and resources you need to get to feeling better.
How it works:
Contact our office receptionist.  She will help you obtain medical records from your previous physicians.
Write out a summary of the medical problems you need solved. Include a time line of symptoms and medical tests.
Dr Rienstra will briefly review all this so we can be sure we have everything on hand for an effective consultation. (If he thinks you are unlikely to benefit, our receptionist will let you know and will return your medical records to you.)
Our receptionist will then call you and arrange for an appointment.
Following your evaluation, Dr Rienstra will send a full report to you and, if you permit, to your primary care doctor.
The fine print:
While we wish we could guarantee a solution to every problem, of course we can't.  We do guarantee you that everyone in this office will give you total and complete attention and effort.
In some cases, including cancer, Dr Rienstra can support and help you only in collaboration with your specialist provider.
House Calls
House Calls
We offer house calls if physician schedule allows. Please phone our office at 360-385-5658 to inquire about availability.
After Hours House Calls
On evenings, nights and weekends, telephone Doctor Rienstra at home, 360-712-7149, if you have an urgent need. Leave a message on the telephone. If he does not return your call promptly, he is not available, and you need to take other action as appropriate. Depending upon what your needs and desires are, he will see you at your home or his office, give advice over the telephone, or suggest that you to go to the emergency department.
Special and Functional Laboratory Tests
We do special testing for digestive function, hormone levels, cardiac risk, vitamin and nutrient levels, celiac disease, allergies and many more.
If you need to know more about one of these issues, then collect your previous medical records, write out your symptoms and thoughts, and make an appointment with Dr Rienstra to decide what tests are best for you.
Concierge Quality Service Without the Annual Fee
If you are in a fix and need someone to cut the red tape, or get you out of the nursing home, or find a solution to a diagnostic dilemma or treatment predicament, call us.  We've helped people improve and extend their life, and we've helped them bring it to an end when the time came.  If you need someone to expedite your care, we'll do it.
Telephone Service
New Patients
We can provide telephone service to new patients only in the state of Washington.
Established Patients
We can provide telephone service no matter your location.  Regarding prescriptions, we can authorize those only to United States pharmacies.  Controlled substances like narcotics or sleeping pills require an office visit and written prescription.
Insurance Coverage
Your insurance may not pay for a phone consult.
Testimonials
I cannot overstate my gratitude to Dr. Rienstra for being instrumental in saving my life a few years ago. Although the blood test for cancer was negative, Dr Rienstra did his usual careful annual physical exam. When he finished, he surprised me by saying "I don't think that PSA test is correct. You need to see the surgeon for confirmation of my physical findings." The surgeon verified Dr Rienstra's concerns; now I'm well.
I completely appreciate Dr. Rienstra's intuitive, comprehensive and unequaled fostering of my well-being over the years… Here's my heartfelt thanks to Dr. Rienstra for sculpting the Monroe Street Medical Clinic!
Vern Garrison
Thanks Dr. Rienstra for the phone consultation today about my bone fracture and upcoming surgery. Your words "you might need this surgery, but you don't need it tomorrow morning" were positively liberating. Right after talking to you, I called to cancel the surgery and then talked to the orthopedist.
He confirmed that yes, fractures like this could indeed heal on their own. Yes, the pin would stabilize the joint, but was not crucial to a good mend. Yes, no pain means the bone is fine and probably knitting away. I made an appointment to get another xray and consult in 1 month to make sure it is healing. I promised to call him instantly if it started to hurt.
So I will lie around and read, soak in epsom salt baths, and move around with crutches and let nature do its beautiful work.
I was so relieved, I burst into tears.
Thanks again. You rock.
Marian R
Douwe-
Hello and many thanks for the recommendation of Bos Welya Plus on your newsletter. When it made an impact on my hand/finger joint pain, it was suddenly and significantly effective.
Not only has it alleviated morning soreness in the joints, but it also has a significant impact on pain reduction following exertion or physical labor – where in the past I could count on pain after yard work, now it's either non existent or so greatly reduced that I don't even notice it. In fact, not noticing pain is the biggest impact of taking this med.
VERY NICE!
Thanks again,
John W. Bickley, Port Townsend
Dr. Rienstra,
I am so impressed with the level of research you must go through to provide the monthly newsletters Medicine-for-People. It is obvious you have a passion to provide medical information to the general public for which no strings are attached. How refreshing is this!
In this day, we are marketed beyond belief. We read and watch only to find that the underlying reason for most information is to sell something. Sometimes I feel we are in the Twilight Zone, with only a few left who can give us information that we need to prevent illness and lead a better quality life. This is not to say that doctors and those in the medical field are trying to take that away from us. I think they are in a survival mode as regulation, insurance and drug companies squeeze every bit of common sense out of them.
What you are offering via these newsletters is a service, and your expertise, experience and willingness to spend huge amounts of time in ongoing research should be compensated. I would be the first paying subscriber.
Thanks again and again,
Judy Peterson
Port Hadlock, WA
My son and I are resistant to Doctor visits. Neither of us have had positive experiences with health care facilities in the past. My ex-wife suggested that Dr. Rienstra's clinic was different, far better than the norm. It turned out she was correct. Since beginning to go to the Rienstra Clinic, I now find I have no qualms about going in and having physicals, and checking out what seem to be serious health issues. In every case, Dr. Rienstra has a calming effect combined with exceptionally straightforward opinions and scientifically based recommendations. With each health issue, his recommendations have led to solutions and his bedside manner is nothing short of amazing. I would have to say, he solves not only the physical, but leaves one feeling an emotional well-being too. After my experiences, I convinced my son to have, what seemed a serious health issue, checked out with Dr. Rienstra, he had the same experience as I, and now also is willing to visit the clinic when necessary. I can't stress enough, how effective Dr. Rienstra is at addressing both the physical issues we humans face with health problems, but also the psychological fallout that results.
 CP, Port Townsend
Insurance
An Independent Medical Clinic
We can help you minimize your health costs in a variety of ways.
Because we are independent, we can offer you the treatment that is best for you without insurance company restrictions on diagnostic methods or treatment modalities. You can be in control of your costs. We will discuss the options that we see for you and the relative cost of each.
Value for Money
As an independent medical clinic, we must work to provide maximum value to our clients/patients. We take pride in providing service people are willing to pay for.
Payment at Time of Service
We require payment at the time of service. This allows us to keep our attention on doing the best we can for you, rather than acting as a bill collector or credit agency. I wish we could charge you less, but a medical practice burns money like a train burns coal and there are many reasons there are few private medical practices remaining.
Medical Insurance
The only governmental insurance program we can afford to work with is Washington State Labor and Industries.  Medicare and other government programs pay less than the cost of providing services; they are subsidized in the clinics that serve you under those programs.
If you have private insurance, we can give you the diagnostic and treatment codes you need to submit a claim to your insurance company, so they can reimburse you, in full or in part, for your services here. If they cover our services, it will be as an out-of-network physician.  Your insurance company can give you information and their particular claim forms so you can submit a claim.
Your insurance may not cover all your costs at our clinic because:
Their payment schedules are developed based upon what they expect the typical physician to do.  They do not expect that physician to spend time reviewing previous medical records at length, undertaking a careful interview and physical examination, look up new or additional information as required, or to compose and write a thorough case report and medical record. With a practice as small as ours, I often will solve certain medical problems while thinking them over away from the office.
Insurance companies usually do not cover preventive services, nutritional injections or certain nutritional or functional tests.
Telephone consultation coverage may not be covered depending on changing regulations.
Medicare and other governmental programs
To maintain the freedom to practice medicine the best we can, we have separated ourselves from managed care companies and all governmental insurance. Medicare, while beneficial in many ways, results in an intervention-rich and procedure-heavy style of medical care.  We do not participate in Medicare.
You can purchase medical services from us on a private basis.  See our Insurance Answers page to learn why.
Managed Care
We do not participate in managed care programs. If you are enrolled in such a program, you may not wish to engage our services except when we can provide something they can't. We are happy to work in conjunction with your managed care physician and to coordinate your care with them to minimize your out-of-pocket expense. We ended our managed care contracts in 1998 for good reasons.
Information on purchasing medical insurance
Click here for more Information about purchasing and using health insurance.
Insurance FAQ: Minimizing Health Care Costs
We Want You To Be In Control Of Your Health Costs
Here are Several Tips to Help You Control Your Costs
If you have a limit to what you can spend on a particular problem, tell us.  Sometimes money is part of the problem and we are more likely to meet your needs if we know what they are.
Bring a typewritten sheet listing your symptoms and problems in detail. Describe when problems began, how often they occurred, what seemed to make them better or worse. List what you're taking in the way of medication and food supplements. List any allergies. Carefully describe anything else you think I should know about you and your health history.
Let us know as clearly as you can what you want from this visit. Do you want a diagnosis? Information? What has caused the condition? Do you want to know what your options are? Do you want treatment?
When we give you a list of recommendations during the visit and you know for sure that you will do this one or won't do that one, please let us know. Than we can concentrate on those things that you are likely to do. We won't waste our time on those things which aren't workable for you.
If you have a chronic or long-standing problem, we're unlikely to solve that in a single visit. Please let us know on subsequent visits which recommendations you've been able to follow and which you haven't. Bring a written progress report of what has improved and what problems still remain.
Please understand that some complex medical problems require more the skills of a detective than a technician. Sometimes seemingly aimless questions on our part can help unravel the mystery. From your side, information about unusual symptoms that might make no sense to you can help us solve your problems. We encourage you to report these.
Save on Pharmaceuticals
Sometimes your co-pay on your insurance is higher than what it would cost you to go to another pharmacy and tell them you don't have insurance and pay cash. God knows why, but there you go.
Another place to find savings is at GoodRx.com or CanadianPharmacyKing.com.
Bring More, Take More Home
With anything, the more you bring with you, the more you will take home with you.  Follow the tips above to help us serve you better.  Between visits, remember there is nothing we can do for you.  As as soon as you leave the office you are your own doctor and dependent only on yourself to live a healthy lifestyle and use the methods we give you to improve your health.  To squeeze the most benefit from your health care dollar, follow our advice carefully.  See what works for you. On your next visit, report on your experience.  This is important information that we both can use in learning more about your particular physiology and your particular life, and helps us work out what is going to work best for you.
Remember that rather than run through a set routine with each patient, we tailor what we do to your individual needs. The harder you work the more you can help us understand those needs, and the better we can meet them at the least cost to you.
Is This You?
You want
Respect for your own observations of your symptoms, respect for your own ideas of what might be causing them, and intelligent consideration of your medical problems.
A solution to your health problem without concern for what the academicians say about it. Whether the word 'conventional' or 'natural' applies is not the issue.
To be self-sufficient. A home remedy that is as effective as a prescription frees you from the trials and costs of office visits and refills.
Honest answers from your physician.
To be appreciated as an individual and to be treated as such.
To make up your own mind what should be done for you. You consider monetary cost, time cost, inconvenience cost, perceived benefit, severity of the problem, your understanding of the problem and the solution, and the intangible personal and interpersonal factors that facilitate a good outcome. You realize that you have a better understanding of what is best for you than does any physician or bureaucrat.
Dr. Rienstra will help you with all this.  Let's find out which solutions are right for you.
Why See a General Practitioner?
Unlike every other member of the Duke Medical School class of 1969, I decided to go beyond the bounds of cookbook medicine and learn as much as I could about people and illness and how to keep the two as far apart as possible.  At this point, we use a pretty seamless blend of natural and pharmaceutical methods.

Support for All Ages
Caring for patients of all ages and health conditions.

Personalize Care
Establishing long-term relationships and trust.

Trust & Records
Helping patients steer a well thought out course through
the health care system.